Our Wine of the Month: Gavi di Gavi DOCG, Piedmont, Italy

Description: Ripe pear and white flowers dominate in this pretty, elegant Gavi di Gavi from Northern Italy.
Vineyard Information: Brothers Antonio and Raimondo Levi were both trained oenologists from Piedmont who started making their own wine back in 1938. For the quiet town of Gavi nestled snugly in the south-eastern corner of Piedmont, wine is the lifeblood. Gavi and the higher quality 'Gavi del Comune di Gavi' (the name for wines from Gavi's best vineyards, often known as Gavi di Gavi), are perhaps the most famous white wines of the Piedmont wine region and these days are exported all over the world.
Soils: The fossil-rich soils that surround the town are ideal for the production of finely flavoured white grapes and it is here that the white Cortese grape, native to the region, is able to fulfil its full potential.
Winemaking Details: 100% Cortese.
Fermentation: Gentle pressing and fermentation in temperature controlled stainless steel thanks maintain aroma and freshness. Malolactic fermentation follows to soften acids
Maturation: T6 months lees' ageing in stainless steel tanks adds body and complexity
Winemaking Details: 100% Cortese. Alcohol. Suitable for vegetarians and vegans
Price: £7.25 /175ml, £29.00 75cl Bottle
Full menu offered every day from 11:00 am to 11:00 pm. Last food order 21:00. You can eat in the bar, in the dining room or weather permitting in the garden. Reservation recommended on week-ends.
Our Seasonal Menu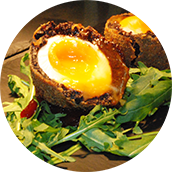 This is our main menu, with new dishes reflecting the seasons as well as our classics that we offer all year long. More...
Download
Specials Menu Sample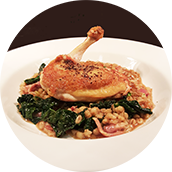 Here is a sample of our weekly specials, with exciting dishes using as much as possible the produce of the estate.

Download