Seasonal Produce from Field to Plate!
The Meikleour Arms is proud to have an AA Rosette. Our latest menu is here , we also have Daily Specials.
You can eat in the bar, in the dining room or weather permitting in the garden. Reservations recommended. Well behaved dogs welcome.
The restaurant at the Meikleour Arms is a bit of a local institution. A traditional British country pub with a Gallic zest would be a good way to describe it. Owning an award winning farm and being surrounded by picturesque fields, forests, lochs and 2 rivers means that we are spoilt with beautiful local and sustainable produce. Venison, game, trout, beef, seasonal vegetables and fruit, edible flowers, mushrooms, herbs ... We very much have a field to plate philosophy and everyone on the estate is involved (our farmers, gardeners, stalkers, ghillies...). Provenance is everything: when you are ordering our fabulous wild venison, game, pork or beef we know in which field or forest it was sustainably taken. Provenance is everything and the meat we serve is prepared, cut and matured in our own butchery. Likewise a lot of the vegetables we used are grown locally without pesticides, either by us or by our community garden.
Ourteam od talented chefs excel in offering uncomplicated spot-on food using the best ingredient that our countryside can offer. Our in-house butcher is an expert in venison and game and we dry-cure our own charcuterie and mature our Aberdeenshire beef in our dedicated butchery for 28 days. The estate has a long-established Franco Scottish heritage and it reflects on our dishes… Elaborating our Seasonal Menu is a family affair between our chefs and owner Sam Mercer Nairne and his Bordeaux-born wife Claire. You will find classics and more adventurous daily specials, often featuring game, venison, wild produce or more unusual seafood or interesting cut of meat.
We hope you will enjoy the wines we selected from all over the world. Despite a penchant for good interesting clarets (we have our very own house wine thanks to family ties), we picked some lovely crus from the New World as well as Italy and Spain.
The Scottish Field, April 2018: "I always liked this place but the new team have managed to improve significantly and put more power to their arm"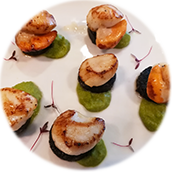 This is our main menu , with new dishes reflecting the seasons as well as our classics that we offer all year long.
Private dining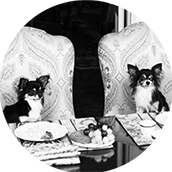 Our private dining room is perfect for party up to 12
Call Us