Our Wine of the Month: Château La Tour de l'Evêque Rosé, AOC Côtes de Provence
It is summer time and rain or sun, Riviera or Homeliday, nothing tastes better than a chilled glass of Rosé de Provence!

Description: On the nose this wine offers subtle aromas of strawberries and raspberries laced with apricot kernel and cream. The palate is ripe, with delicate red berries, a creamy texture and an underlying minerality.
Vineyard Information: The majestic Château La Tour de l'Evêque stands in the commune of Pierrefeu in Provence, where is surrounded by the woody and crystalline stones of the Maurettes hills. The Château La Tour de l'Evêque, also known as the Château La Tour Sainte-Anne, has been acquired by the Gabriel Sumeire in 1958, the first of a long line of winemakers, and still belongs to the family estate. Formerly belonging to the clergy, the property was the summer residence/mansion of the bishops coming from Toulon and this is why it has the particularity of having two names.
Soils: Crystalline Bedrock. The poor level of nutrients pushed the vines to penetrate deeper into the soil and offer more complexity to the wine
Winemaking Details: 61 % Grenache, 29 % Cinsault, 4% Syrah, 2% Rolle, 1% Mourvèdre, 1% Cabernet Sauvignon, 1% Ungi Blanc, 1% Semillon . Château La Tour de l'Evêque use only organic viticultural and sustainable winemaking techniques (manual ploughing, absence of chemical herbicides, animal manuring & copper treatments since 3 generations). Thanks to the family constant efforts, the wines have been certified organic since 2005.
Fermentation: Fermented in temperature controlled stainless steel vats at 30 to 32º C to maximise extraction
Maturation: The grapes are gently pressed in order to retain/extract all the flavours and aromas. The grapes are then fermented separately in stainless steel vats at cool temperature to preserve the delicate flavours and retain the freshness of the wine.
Price: £4.95/125ml glass, £6.50 /175ml, £25.00 75cl Bottle
Full menu offered every day from 11:00 am to 11:00 pm. Last food order 21:00. You can eat in the bar, in the dining room or weather permitting in the garden. Reservation recommended on week-ends.
Our Seasonal Menu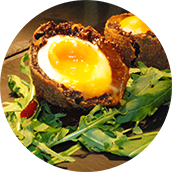 This is our main menu, with new dishes reflecting the seasons as well as our classics that we offer all year long. More...
Download
Specials Menu Sample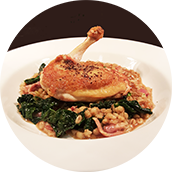 This is a sample of our weekly specials, with exciting dishes using as much as possible the produce of the estate.
More on Facebook...
Download